Weekly Highlights
Stocks continue to post all-time highs, rallying for the 7th out of the past 8 weeks.
Trade concerns represent a risk to the market going into year-end.
We think an investable bounce in inflation may be getting underway.
Stocks climbed in a holiday-shortened week last week, for the 7th week out of the past 8, to post another fresh set of all-time highs. Small-cap stocks led markets higher, up 2.3%, followed by the tech-heavy Nasdaq up 1.7%, and the S&P 500 up 1.0%. Sector leadership was found in Consumer Discretionary +1.8%, Technology 1.7%, and Real Estate +1.4%, while Energy -1.5%, Utilities +0.1, and Financials +0.7 were laggards. Bond yields were down slightly for the week, and Commodities were sold down 2.0%.
Now that the calendar has turned to December, we're reminded of what happened in December 2018, where investors were in the midst of the second-leg down of a nearly 20% correction that started in October. Recession fears came sharply into focus, as well as concerns about a protracted trade war with China. Fast forward to December of 2019 and not much has changed in our estimation, other than the S&P 500 is up over 26% from where it ended the year last year. Investors are still constantly barraged by on-again-off-again trade deal headlines, while the global economy has arguably gotten worse. As recently as Monday, the Institute of Supply Management Purchasing Managers Index (PMI) survey registered 48.1, down from the prior month, throwing water on the "global slowdown is over" narrative. Markets must now also contend with less-than-stellar developments on a China trade deal. According to President Trump which now may not happen until after the election, and according to the Chinese, not until existing tariffs are rolled back. Additional tariffs are still scheduled to go into effect on December 15, which the market assumed were off the table in the recent run-up. Who knows whether or not the new tariffs will be enacted, but there has been a lot of optimism built into stocks at all-time highs on a deal getting done soon with no more new tariffs put in place.
While we think it's likely that trade will continue to be an overhang into 2020, we've written extensively about how we see growth continuing to slow, regardless of what happens with the China agreement. One new area of opportunity over the next few quarters may be an increase in inflation back toward the longer-term trend. The chart below shows the market's measure of future inflation expectations via the 10-Year Breakeven Inflation Rate, which appears may have put in a bottom as of October, along with US private sector average hourly earnings growth, which continues to make new highs for the cycle. If our thesis plays out over the next 6 months or so, this may create an opportunity in areas like energy and commodities which historically outperform when inflation picks up. We also like the fact that these sectors of the market are out of favor and make up the smallest share of market cap of the S&P 500 since the beginning of our data set.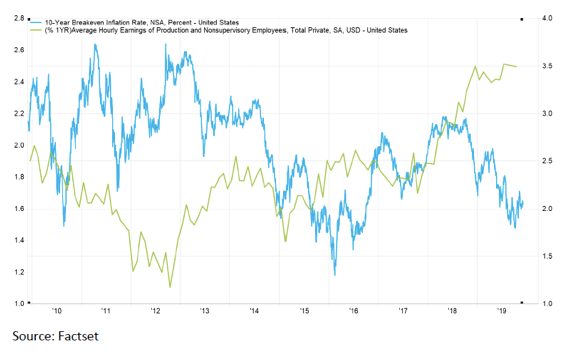 Week ahead:
We have another relatively quiet week on the economic calendar as the major releases bookend the week. PMI, which we already mentioned, was released on Monday. The other major highlight for the week is the jobs and unemployment data released on Friday. Eurozone GDP reports will also be released on Thursday. Earnings announcements hit the home stretch this week, with notable reports including
Salesforce.com
(CRM), Workday (WDAY), Marvell (MRVL), Kroger (KR), and Dollar General (DG) among others.
Sources:
Listed market indices are provided for information purposes only and are not intended in any way to be representative of Cornerstone Wealth Group's client accounts or performance. The holdings and performance of Cornerstone Wealth Group's client accounts may differ substantially from the listed indices. Market indices are unmanaged and are not available for direct investment.
This material provided by Cornerstone Wealth Group is for informational purposes only. It is not intended to serve as personalized investment advice or as a recommendation or solicitation of any particular security, strategy or investment. Any securities mentioned herein are not to be taken as advice or recommendation to buy or sell a specific security. The information provided may not be applicable to your account managed by Cornerstone Wealth Group. Please contact Cornerstone Wealth Group for specific information regarding the holdings and trading activity of your account. Opinions expressed in this commentary do not represent a personalized recommendation of a particular investment strategy to you. Additionally, you should review and consider any recent market news. All expressions of opinion are subject to change without notice in reaction to shifting market or other conditions. Data provided is believed to be accurate, but its accuracy, completeness or reliability cannot be guaranteed.


Investment advisory services offered through Cornerstone Wealth Group, LLC dba Cornerstone Wealth, an SEC-registered investment adviser. Custody and other brokerage services provided to clients of Cornerstone Wealth Group, LLC dba Cornerstone Wealth are offered by Fidelity Brokerage Services LLC, Member NYSE/SIPC and Charles Schwab & Co., Inc., Member FINRA/SIPC.
Securities offered through Mutual Securities, Inc., Member FINRA/SIPC. Supervisory office located at 16810 Kenton Drive, Suite 200, Huntersville, NC 28078. Cornerstone Wealth Group, LLC dba Cornerstone Wealth is not affiliated with Mutual Securities, Inc.