Cornerstone's Week on Wall Street
Highlights for the week:
Stocks slid for the second week in a row and remain in a multi-year holding pattern
The market impact of political uncertainty in Washington has been benign
October will see a multitude of market-moving events
Markets slid again last week for the second week in a row. The NASDAQ fell by 2.2% pulling other indexes lower, followed by the S&P 500 down 1.0%, while the Dow Jones Industrial Average fell by 0.4%. Small-Cap stocks, measured by the Russell 2000 Index fared the worst, falling by 2.5% for the week. From a sector perspective, Health Care (-3.0%), Energy (-2.6%), and Industrials (-1.3%) were the worst performers, while defensive sectors Communications (1.4%), Utilities (1.3%) and Staples (1.3%) were positive. As of September 30, 2019, the S&P 500 is up 20.6%, but the 1-year return is a paltry 4.3%.
Recent developments in Washington D.C. added to the uncertainty as news that the House of Representatives launched a formal impeachment process against President Trump. In our estimation what was more impactful to markets was the ascension of Sen. Elizabeth Warren's lead in some Democratic polls, overtaking front-runner Joe Biden. One of the key tenets of Sen. Warren's platform is "Medicare for All" which if enacted could phase out private insurance hit the health care sector especially hard. Additionally, many of her policies are not seen as especially friendly to corporations especially when it comes to reversing Trump tax cuts and adding on new taxes. We anticipate political rhetoric to ramp up and the attacks from both sides to worsen going into the election year, but to this point, markets have largely looked through the headlines.
Speaking of headlines, October has the potential to be full of market-moving headlines starting this week with the Institute of Supply Management's (ISM) Purchasing Manger's Index (PMI) reading. Readers of our commentary should be familiar with this data point, but for those not familiar, here's a link to the ISM's website. https://www.instituteforsupplymanagement.org/ismreport/mfgrob.cfm?SSO=1
We view the ISM PMI as a barometer for the U.S. business cycle. Over time it has been highly correlated with a host of economic and market-related data points,
which we will cover more in-depth during our upcoming quarterly iteration of View from the Investment Desk. One of the data points which we will highlight here today is the relationship between the ISM PMI and earnings per share (EPS) of the S&P 500, highlighted in the chart below.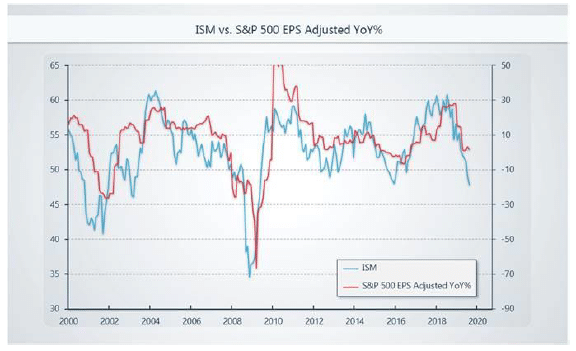 Source: Factset
If the relationship holds going forward, it may indicate future weakness in earnings, which could potentially bleed through to weakness in stock returns over the coming months.
Specifically, during the month of October, we will be keeping a close eye on the following: (1) Third-quarter earnings season, (2) upcoming meetings and developments on trade with China, and (3) the Federal Reserve meeting scheduled for the end of the month. The consensus expectations for the third-quarter earnings per share (EPS) for the S&P 500 are for a drop of 3.8%. For the second quarter, S&P 500 EPS was flat, falling (0.3%) according to Factset, and a drop during the third quarter would technically result in an earnings recession, which is 2 quarters of declines. Up to this point, the stock market has been able to look past weak earnings growth in anticipation of a rebound in the second half of 2019 and early in 2020, so we will be keeping a close eye on forward-
looking guidance. If the ISM to S&P 500 EPS correlation holds, the results could come in worse. On top of earnings, the next round of trade talks will take place on October 10-11, in D.C. with China's delegation ahead of planned October 15 tariff increases. While recent Chinese goodwill gestures of agricultural purchases and certain exemptions have eased recent concerns, our view remains that a full-fledged trade deal will remain elusive without a meaningful shock to the respective economies and markets. See below for upcoming 4Q trade-related events.
Last but not least, the Fed's penultimate meeting for 2019 is scheduled for October 29-30. After announcing rate cuts at the August and September meetings, the outlook for additional cuts into year-end is less clear. Our base case view is that the Fed moves forward with an additional 25-basis-point cut in October, but we would not be shocked if results from the aforementioned events in October push the Fed to cut by 50.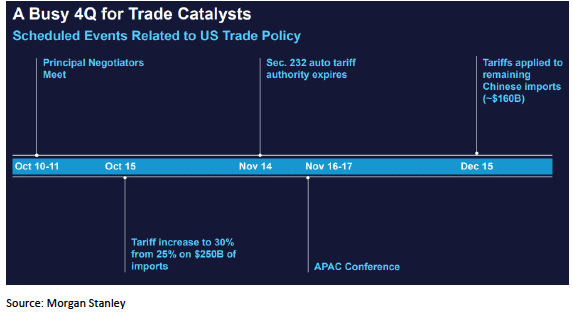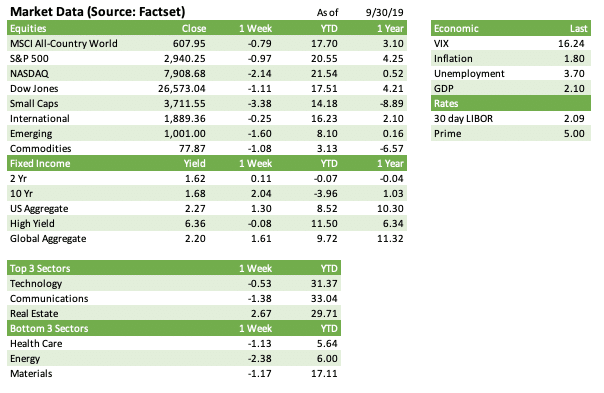 Sources: Listed market indices are provided for information purposes only and are not intended in any way to be representative of Cornerstone Wealth Group's client accounts or performance. The holdings and performance of Cornerstone WealthGroup's client accounts may differ substantially from the listed indices. Market indices are unmanaged and are not available for direct investment.
This material provided by Cornerstone Wealth Group is for informational purposes only. It is not intended to serve as personalized investment advice or as a recommendation or solicitation of any particular security, strategy or investment. Any securities mentioned herein are not to be taken as advice or recommendation to buy or sell a specific security. The information provided may not be applicable to your account managed by Cornerstone Wealth Group. Please contact Cornerstone Wealth Group for specific information regarding the holdings and trading activity of your account. Opinions expressed in this commentary do not represent a personalized recommendation of a particular investment strategy to you. Additionally, you should review and consider any recent market news. All expressions of opinion are subject to change without notice in reaction to shifting market or other conditions. Data provided is believed to be accurate, but its accuracy, completeness or reliability cannot be guaranteed.
Investment advisory services offered through Cornerstone Wealth Group, LLC dba Cornerstone Wealth, an SEC-registered investment adviser. Custody and other brokerage services provided to clients of Cornerstone Wealth Group, LLC dba Cornerstone Wealth are offered by Fidelity Brokerage Services LLC, Member NYSE/SIPC and Charles Schwab & Co., Inc., Member FINRA/SIPC.
Securities offered through Mutual Securities, Inc., Member FINRA/SIPC. Supervisory office located at 16810 Kenton Drive, Suite 200, Huntersville, NC 28078. Cornerstone Wealth Group, LLC dba Cornerstone Wealth is not affiliated with Mutual Securities, Inc.