Key Takeaways:
The world became a more dangerous place on February 24, 2022, when Russian forces launched a full-scale invasion of Ukraine. The financial impact will pale in comparison to the human toll that is sure to be catastrophic and wide-reaching but nonetheless is worth examining. The S&P 500 is down more than 10% from the high, fear is palpable and uncertainty reigns. Our work indicates that most geopolitical events are sharp but short-lived with volatility creating opportunity, especially when not accompanied by recession. At these levels, the risk/reward in the market is reasonable over the intermediate-term.
Many readers may remember this quote from Secretary of Defense Donald Rumsfeld during a press conference just prior to the start of the Iraq War. While it's been 20 years since this famous quote was uttered, given the events of the past week it's certainly relevant today. There are few words to describe the violence that is happening in eastern Europe right now, and we can only hope that cooler heads will prevail and that the loss of life will be minimal. We have much for which to be thankful here at home.
Geopolitical events: Uncertainty and Opportunity
If anything, the Russian invasion of Ukraine has ratcheted up the "unknown unknowns" as investors contemplate the potential outcomes of the conflict. What makes this event more difficult to handicap is the unprecedented sanctions which have been implemented against Russia. These include banning financial institutions from the SWIFT network, used for international banking, and direct sanctions targeting Russia's central bank, effectively cutting off the country from U.S. dollar transactions. Russia has responded in kind, raising interest rates and limiting capital flows by closing its stock market, banning the sale of assets, and restricting foreign currency transactions. While there is no historical playbook that matches the current environment exactly, it is nevertheless instructive to consult market history around major conflicts to parse through "known knowns" and "known unknowns." What we found is that from a market perspective, geopolitical events tend to be sharp, but short-lived as volatility creates opportunities for investors ready to take advantage. See the charts below.
Market Reaction to Geopolitical events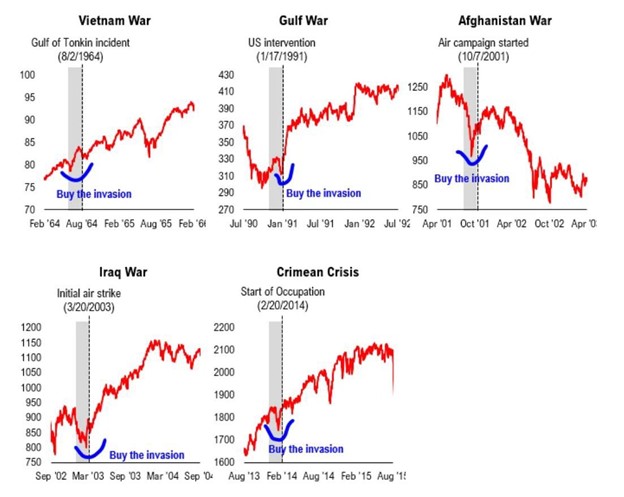 Source: Bloomberg
In all five of the instances we reviewed, (Vietnam, the Gulf War, Iraq and Afghanistan, and most recently Crimea) markets were higher six months later from the start of the respective invasions. On a one-year time scale, markets were higher in all instances except for the Afghanistan War in 2002. In this case, the market finally bottomed one year after the invasion and almost two years after the bursting of the tech bubble.
There's certainly no guarantee that markets will follow the same pattern this time around as they have historically, but probabilities appear to be in favor of some strength going forward. Given that the S&P 500 is now down over 10% from the highs, and valuation ratios have corrected, we think the risk/reward at these levels looks reasonable over the intermediate-term. As we said at the beginning of the year during our Kick-Off, we expect that 2022 will be a more challenging year for risk assets and that investors should be ready for more volatility and lower expected returns. Two months in, that view is playing out broadly as expected. Markets hate uncertainty, but uncertainty often creates opportunities for those who have a process and the wherewithal to take advantage.
Thanks for reading my note.
Cheers,
Cliff Hodge
Disclosures:
The S&P 500 Index, or the Standard & Poor's 500 Index, is a market-capitalization-weighted index of the 500 largest publicly-traded companies in the U.S. It is not an exact list of the top 500 U.S. companies by market capitalization because there are other criteria to be included in the index. The index is widely regarded as the best gauge of large-cap U.S. equities. Market indices are unmanaged and are not available for direct investment
This material provided by Cornerstone Wealth Group is for informational purposes only. It is not intended to serve as personalized investment advice or as a recommendation or solicitation of any particular security, strategy, or investment. Any securities mentioned herein are not to be taken as advice or recommendation to buy or sell a specific security. The information provided may not be applicable to your account managed by Cornerstone Wealth Group. Please contact Cornerstone Wealth Group for specific information regarding the holdings and trading activity of your account. Opinions expressed in this commentary do not represent a personalized recommendation of a particular investment strategy to you. Additionally, you should review and consider any recent market news. All expressions of opinion are subject to change without notice in reaction to shifting markets or other conditions. The data provided is believed to be accurate, but its accuracy, completeness, or reliability cannot be guaranteed.
Investment advisory services are offered through Cornerstone Wealth Group, LLC dba Cornerstone Wealth, an SEC-registered investment adviser. Custody and other brokerage services provided to clients of Cornerstone Wealth Group, LLC dba Cornerstone Wealth are offered by Fidelity Brokerage Services LLC, Member NYSE/SIPC and Charles Schwab & Co., Inc., Member FINRA/SIPC.