Cliff Hodge, CFA - Chief Investment Officer
February 2023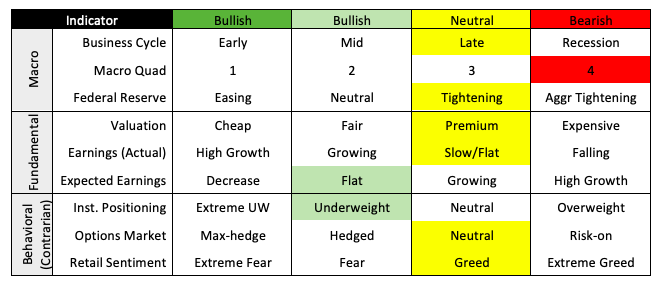 The markets are off to a hot start in 2023 as investors seek to price in easier monetary policy as the Federal Reserve gets closer to pausing interest rate hikes. At the time of this writing the S&P 500 is up 8% year-to-date, and bonds, measured by the Bloomberg Barclay's US Aggregate Index are up 1.5%; a welcome sight after poor returns in 2022 and the worst year for a 60/40 portfolio going back to the Global Financial Crisis in 2008. So far, the losers in 2022 are setting the pace, while last year's winners are being relatively punished. The main question that investors must grapple with now, is whether or not the strength that we have seen to start the year indicates the beginning of a new bull market, or turns out to be another bear-market-rally destined to turn lower. The fortunes of the stock market will be closely tied to the direction of the "landing" the economy makes; soft landing (slowdown but no recession), hard landing (recession) or no landing. Wall St consensus is firmly in the "no recession soft landing camp", while we are of the opinion that a recession is unavoidable to get back to the Fed's 2% inflation target.
The PCE inflation data that came out on Friday shows that the Fed's preferred measure of inflation, namely core inflation excluding housing, increased in January to 4.6%, quite a long way from the Fed's 2% target. The economy outside of the interest rate-sensitive components – which only make up about 20% of GDP – is not slowing down. Even the housing market is starting to show signs of a rebound, driven by strong job growth, high wage growth, and high levels of household savings. This recent housing development is particularly problematic, given the consensus expectation that Owner's Equivalent Rent (OER) or housing inflation should be declining over the coming quarters. As a result, the Fed may likely have to raise interest rates even further than expected. This "no landing" scenario continues to be a downside risk to equity and credit markets. A Fed-driven tightening in financial conditions with higher rates, lower equities, and wider credit spreads increases the probability that "no landing" will be followed by a hard landing later this year or in 2024.
While we don't have a crystal ball, what we do rely on for navigating the ever-changing investment environment is our data-driven investment process; and particularly our 3 Key Pillars: Macro, Fundamental and Behavioral. Our work indicates that these forces are what drive markets. A quick review of the dashboard components supports the view that this most recent rally may fizzle, as the all-clear from a risk perspective has yet to be confirmed. We'll continue to monitor the situation closely and remain laser-focused on the path of the data to be ready for what lies just beyond the horizon.
Thanks for reading my note.
Cheers,
Cliff
Disclosures:
The S&P 500 Index, or the Standard & Poor's 500 Index, is a market-capitalization-weighted index of the 500 largest publicly-traded companies in the U.S. It is not an exact list of the top 500 U.S. companies by market capitalization because there are other criteria to be included in the index. The index is widely regarded as the best gauge of large-cap U.S. equities. Market indices are unmanaged and are not available for direct investment
This material provided by Cornerstone Wealth Group is for informational purposes only. It is not intended to serve as personalized investment advice or as a recommendation or solicitation of any particular security, strategy or investment. Any securities mentioned herein are not to be taken as advice or recommendation to buy or sell a specific security. The information provided may not be applicable to your account managed by Cornerstone Wealth Group. Please contact Cornerstone Wealth Group for specific information regarding the holdings and trading activity of your account. Opinions expressed in this commentary do not represent a personalized recommendation of a particular investment strategy to you. Additionally, you should review and consider any recent market news. All expressions of opinion are subject to change without notice in reaction to shifting market or other conditions. Data provided is believed to be accurate, but its accuracy, completeness or reliability cannot be guaranteed.
Investment advisory services offered through Cornerstone Wealth Group, LLC dba Cornerstone Wealth, an SEC registered investment adviser. Custody and other brokerage services provided to clients of Cornerstone Wealth Group, LLC dba Cornerstone Wealth are offered by Fidelity Brokerage Services LLC, Member NYSE/SIPC and Charles Schwab & Co., Inc., Member FINRA/SIPC.