Weekly Highlights
Global stock markets were mixed as the S&P 500 rose modestly.
Economic data continues to be uneven. We see strength in the labor market and the U.S. consumer sector offset by weak manufacturing.
The clock is ticking ahead of the December 15 deadline for new tariffs on China.
Results in various stock markets were mixed last week as emerging markets (+0.7%), small-caps (+0.6%) and the S&P 500 (+0.2%) were all higher, while developed international (-0.3%) were down. The Nasdaq and Dow Jones Industrial Average were barely negative on the week. From a sector perspective, Energy (+1.6%) was the big winner, followed by Consumer Staples (+1.1%) and Health Care (+0.9%). Communications (-1.8%), Consumer Discretionary (-0.4%) and Information Technology (-0.4%) lagged for the week. Bond yields ticked up slightly, and the 10-Year U.S. Treasury ended the week at 1.84%, while Commodities had a strong week up 1.5%.
We continue to see a dichotomy in recent releases of economic data. On one hand, November jobs, released Friday, came in at 266k jobs added, blistering expectations and sending the national unemployment rate down to 3.5%, a fresh 50-year low. Part of this was due to the additions of GM workers ending their strike, but nonetheless it was a strong print. While consumer and hiring data was strong, manufacturing and business investment remain a source of weakness for the economy. We've written about the continued decline in the ISM Purchasing Manager Index (PMI) reading for November (48.1 v 48.3 for October) but business investment (chart below) also remains a weak spot for the economy.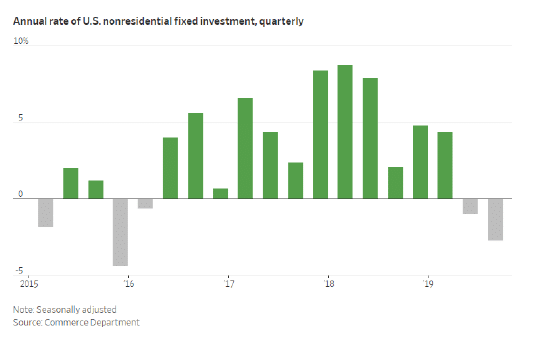 Nonresidential fixed investment, which reflects spending on research and development, equipment and structures, and software declined by 2.7% during the third quarter, following a 1% decline in the previous quarter. Bulls are banking on this soft patch being trade-related, which could be solved by an ever-elusive trade deal with China. Negotiations continue, with December 15 looming as the next deadline for increasing tariffs on consumer goods. We think it is likely that these additional tariffs will at the very least be delayed in good faith, however, trade remains a key risk going into 2020.
Week ahead:
The economic calendar heats up this week with the December Fed meeting taking center stage on Wednesday. The FOMC will release an interest rate decision where expectations are for the Fed to remain on hold. The Fed will also update its quarterly Summary of Economic Projections for 2020. Other data points of interest include an update on inflation via Consumer and Producer Price Indexes and the most recent batch of Retail Sales data. There are a handful of earnings releases of note as well, including: Toll Brothers (TOL), Adobe (ADBE), CostCo (COST), Oracle (ORCL) and Broadcom (AVGO).
Sources:
Listed market indices are provided for information purposes only and are not intended in any way to be representative of Cornerstone Wealth Group's client accounts or performance. The holdings and performance of Cornerstone Wealth Group's client accounts may differ substantially from the listed indices. Market indices are unmanaged and are not available for direct investment.
This material provided by Cornerstone Wealth Group is for informational purposes only. It is not intended to serve as personalized investment advice or as a recommendation or solicitation of any particular security, strategy or investment. Any securities mentioned herein are not to be taken as advice or recommendation to buy or sell a specific security. The information provided may not be applicable to your account managed by Cornerstone Wealth Group. Please contact Cornerstone Wealth Group for specific information regarding the holdings and trading activity of your account. Opinions expressed in this commentary do not represent a personalized recommendation of a particular investment strategy to you. Additionally, you should review and consider any recent market news. All expressions of opinion are subject to change without notice in reaction to shifting market or other conditions. Data provided is believed to be accurate, but its accuracy, completeness or reliability cannot be guaranteed.
Investment advisory services offered through Cornerstone Wealth Group, LLC dba Cornerstone Wealth, an SEC-registered investment adviser. Custody and other brokerage services provided to clients of Cornerstone Wealth Group, LLC dba Cornerstone Wealth are offered by Fidelity Brokerage Services LLC, Member NYSE/SIPC and Charles Schwab & Co., Inc., Member FINRA/SIPC.
Securities offered through Mutual Securities, Inc., Member FINRA/SIPC. Supervisory office located at 16810 Kenton Drive, Suite 200, Huntersville, NC 28078. Cornerstone Wealth Group, LLC dba Cornerstone Wealth is not affiliated with Mutual Securities, Inc.